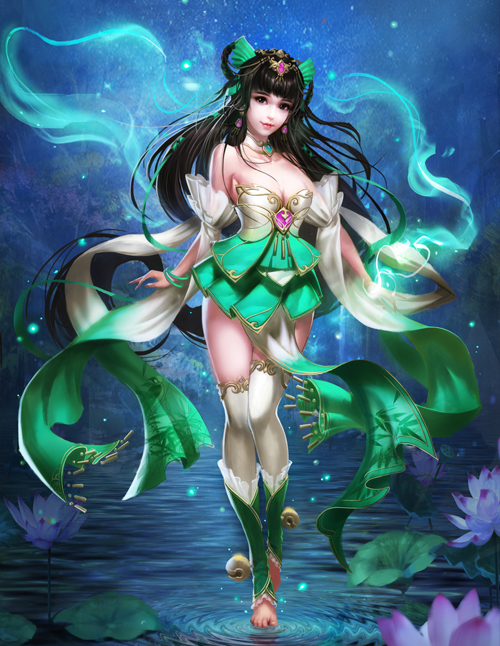 夜,圆月高挂,繁星点点。
At night, the full moon is high and the stars are dotted.
但在那星河之间,却有九色雷光萦绕其中,格外耀眼。
But among the stars and rivers, there are nine colors of thunder lingering in them, especially dazzling.
"天现异象,定有神体降临。"
"There is a vision in the sky, and there must be a divine body coming."
九州大陆,皇城之巅,一位金衣老者负手而立,仰望夜空。
On the mainland of Kyushu, at the top of the royal city, an old man in gold stood with his hands down and looked up at the night sky.
在其身后,还有数万名皇城高手,整齐的半跪在地,似在等待什么命令。
Behind him, there are tens of thousands of imperial city experts, half kneeling on the ground neatly, as if waiting for some order.
"嗡"
"Buzz"
突然,雷光凝聚,竟化作一道九色神雷,自那九天星河之上,劈落而来。
Suddenly, the thunder gathered and turned into a nine-color divine thunder, which fell from the nine stars.
刹那间,黑夜变白昼,神雷还未落下,大地已是开始隆隆作响,剧烈颤抖。
In an instant, the night turned into day, and before the thunder fell, the earth began to rumble and tremble violently.
可当那九色神雷,与大陆接触的一霎那,并没有造成可怕的破坏,竟然凭空消失。
But when the nine-color divine thunder came into contact with the mainland, it did not cause terrible damage and disappeared out of thin air.
与此同时,大地再次被夜色笼罩,本璀璨的夜空也是暗淡了不少,仿佛某种精华已被抽离,恢复了往日的平静。
At the same time, the earth was once again shrouded in darkness, and the bright night sky was also a lot dimmed, as if some essence had been withdrawn, restoring the calm of the past.
但此刻老者的双眼却异常明亮,甚至激动的身体都在颤抖,他手指雷霆下落之处:"青州境内,所有今夜降临之子,统统给我带回皇城!"
But at the moment, the old man's eyes were extremely bright, and even his excited body was trembling. He pointed to the whereabouts of the thunderbolt and said, "In Qingzhou, all the children coming tonight, bring me back to the imperial city!"
"遵命!"
"Yes!"
宛如雷鸣般的回答响彻天际,数万名皇城高手前往青州,誓要寻得神体,为皇朝所用。
The thunderous answer resounded across the sky. Tens of thousands of imperial city experts went to Qingzhou, vowing to find the divine body for the use of the emperor.
时光流逝,转眼已过五载,人们虽还记得当年的惊天一幕,却没人知龗道皇朝的所作所为。
Time has passed, and five years have passed in a twinkling of an eye. Although people still remember the shocking scene of that year, no one knows what the Emperor Daodao did.
九州大陆,青州境内,宗门林立,青龙宗便是其中之一。
Qinglong Sect is one of the numerous sects in Kyushu and Qingzhou.
今日,又到了青龙宗每年一度,招收弟子的日子,青龙宗外,人山人海。
Today, it is the time for the Qinglong Sect to recruit disciples once a year. There are many people outside the Qinglong Sect.
不过每到这个时候,最过忙碌的便是外门弟子,所有宗门的接待,全部压在了他们头上。
However, at this time, the most busy is the outside disciples. All the reception of the sect is on their head.
外门弟子,是个费力不讨好龗的差事,先不说在宗门地位低下,就连外人也是看不起他们。
External disciples are laborious and don't please others. Not to mention their low status in the sect, even outsiders despise them.
理由很简单,凡是外门弟子者,说明资质极差,终身难有太大成就,自然受人鄙视。
The reason is very simple. Those who are outside of the school will be despised because of their poor qualifications.
"喂,你什么态度,你知龗道我是谁么?"一名衣着华丽的妇人,带着一名男孩,指着一名少年大声斥责着。
"Hey, what's your attitude? Do you know who I am?" A gorgeous woman, with a boy, pointed at a young man and scolded loudly.
"实在抱歉,天色已晚,宗门将要关闭,两位还是明日再来吧。"少年清秀的脸庞尚显稚嫩,不过眉宇之间却有着一抹英气。
"I'm really sorry, it's getting late, and the Zong Clan will be closed, so you two should come back tomorrow." The young man's delicate face is still young, but there is a touch of heroism between his eyebrows.
他名为楚枫,今年十五岁,是青龙宗数以万计的外门弟子之一。
His name is Chu Feng, 15 years old, and he is one of tens of thousands of outside disciples of the Qinglong Sect.
不过同为外门弟子,这楚枫却与众不同,没有低人一等的自卑,没有自甘堕落的沉沦,对待每个人都不惧不怕,从容自若。
However, as an outsider disciple, Chu Feng is different from others. He has no inferior inferiority complex, no self-destruction, and is not afraid to treat everyone.
"明日再来,你当我是白痴?这深山野岭的你让我们母子住哪?"
"Come back tomorrow, do you think I'm an idiot? Where do you want our mother and son to live?"
"你必须给我安排住处,不然我就去找你们长老理论。"妇人不依不饶,竟一把抓住了楚枫的衣襟。
"You must arrange a place for me, or I will go to your elders to argue." The woman reluctantly grabbed Chu Feng's skirt.
"楚枫弟,遇到麻烦了么?"可就在这时,一道甜美的声音突然响起。
"Chu Fengdi, are you in trouble?" But just then, a sweet voice suddenly sounded.
定目望去,一名紫衣少女,正踏步而来,虽然嘴角挂着微笑,但那一双凌厉的眼眸,却紧紧的盯着妇人。
Looking fixedly, a girl in purple was coming. Although she was smiling, her sharp eyes were staring at the woman tightly.
见到少女,妇人脸色顿时大变,一抹浓郁的恐惧涌现而出。
When she saw the girl, the woman's face suddenly changed, and a strong fear emerged.
不因为别的,只因少女身上紫色长袍,那可是内门弟子的标志。
Not because of anything else, but because the girl wears purple robes, which is the sign of the inner disciples.
妇人暗叫不好,本以为自己的身份,可以刁难一下眼前的少年。
The woman secretly shouted that she was not good. She thought her identity could make the young man difficult.
哪曾想,这个看着不起眼的少年,竟有内门弟子做后台,那可是她惹不起的存在。
It never occurred to me that this inconspicuous young man had an inner disciple as the backstage. That was the existence she could not afford.
"没龗事没龗事,我只是跟这位小兄弟,询问一些事罢了。"妇人笑着解释。
"Nothing, nothing. I just asked the little brother about something." The woman smiled and explained.
少女先是瞪了她一眼,而后只说了一个字:"滚。"
The girl first glared at her, then said only one word: "Go away."
这一刻,妇人身体不由一颤,脸色已是变得铁青。
At this moment, the woman's body could not help shaking, and her face had turned black.
不过她却没有一丝犹豫,牵着男孩便快步离去,慌乱之间竟还摔了一个跟头,狼狈至极。
However, she did not hesitate. She took the boy and walked away quickly. In a panic, she fell a somersault and was extremely embarrassed.
见状,楚枫无奈的摇了摇头,而后对身旁的少女施礼道:"多谢楚月师姐"
Seeing this, Chu Feng shook her head helplessly, and then saluted the girl beside her: "Thank you, Senior Sister Chu Yue."
"跟我你还客气,咱们可是一家人。"楚月有些不悦。
"You are welcome to tell me, we are a family." Chu Yue was a little unhappy.
她说的没错,楚枫与她的确是一家人,他们来自同一座世家,楚家。
She is right. Chu Feng and she are really a family. They are from the same family, the Chu family.
这楚月正是楚枫二伯家的堂姐,只比楚枫大一岁。
This Chuyue is the cousin of Chufeng's second uncle's family, only one year older than Chufeng.
不过,楚月在三年前就已通过内门考核,成为内门弟子,如今已是灵武四重的高手。
However, Chu Yue passed the internal examination three years ago and became an internal disciple. Now she is an expert in the four aspects of Lingwu.
"宗门规矩,总是要遵守的。"楚枫灿烂的笑道。
"The rules of the sect should always be observed," Chu Feng said with a brilliant smile.
"哎"然而看着这样的楚枫,楚月却是心头一酸:"楚枫弟,今年的内门考核你还不参加么?难道,你还没有达到灵武三重?"
"Alas" However, looking at such a Chu Feng, Chu Yue was sad: "Brother Chu Feng, have you not participated in the internal examination this year? Have you not reached the three levels of Lingwu?"
楚枫并未回答,脸上依然挂着微笑,没人知龗道他这是什么意思。
Chu Feng did not answer, but still smiled. Nobody knew what he meant.
见状,楚月从腰间取下一只锦囊,放到了楚枫的手中:"将它炼化,也许能够帮你突破三重。"
As seen, Chu Yue took a brocade bag from her waist and put it in Chu Feng's hand: "Refining it may help you break through the triple."
楚枫将锦囊打开,顿时一股逼人的灵气散发而出,一株手指大小,晶莹透亮的仙灵草正倒卧其中。
Chu Feng opened the brocade bag, and immediately a compelling aura came out. A finger-sized, glittering and translucent fairy grass was lying on its back.
"楚月姐,这太贵重了,我不能要。"楚枫赶忙还给了楚月。
"Sister Chuyue, this is too expensive for me to take." Chu Feng hurriedly returned it to Chuyue.
仙灵草,乃是修武圣药,极为珍贵,对灵武境以内的修武者,皆有无尽的功效。
Fairy grass is the holy medicine for cultivating martial arts. It is extremely valuable. It has endless effects on martial arts practitioners within the Lingwu realm.
而楚家为了让他们快速提升修为,每年都会补贴他们每人一株仙灵草。
In order to promote their cultivation quickly, the Chu family will subsidize each of them with a fairy grass every year.
想来楚月这株,也是家族补贴的,只是楚月并未享有,反而是给了他,这让楚枫感动之余,更是不忍接受。
I think Chuyue is also subsidized by the family, but Chuyue did not enjoy it, but gave it to him. This moved Chufeng, but he couldn't bear to accept it.
"我说给你,你就拿着,还是不是我弟弟。"楚月有些不悦。
"I told you to take it, but it's not my brother." Chuyue was a little unhappy.
"哟,楚月姐什么时候这么大方了,仙灵草竟然也要送人?"
"Oh, when did Sister Chuyue be so generous that Fairy Grass should also be given away?"
"你看,我也是你弟弟,刚好最近将要突破灵武四重,不如楚月姐将这仙灵草送我如何?"
"You see, I'm also your brother. It's just that I'm going to break through the four levels of Lingwu recently. How about Sister Chuyue send me this fairy grass?"
一名与楚枫年龄相仿的少年走了过来,身上同样穿着内门弟子的服饰。
A teenager about the same age as Chu Feng came over, wearing the same clothes as an inner disciple.
他叫楚真,同样来自楚家,五年前与楚枫一同拜入青龙宗,只不过早在两年前,他已成为内门弟子。
His name is Chu Zhen, and he is also from the Chu family. He joined the Qinglong Sect with Chu Feng five years ago. Only two years ago, he became an inner disciple.
"楚真,你早已突破灵武三重,成功凝聚灵气,就算没有这仙灵草也可扶摇直上。"
"Chu Zhen, you have already broken through the three levels of Lingwu and successfully gathered the spirit. Even without this fairy grass, you can still rise."
"可楚枫弟至今还未凝聚灵气,这仙灵草对他更为重要。"楚月将仙灵草,强行塞入了楚枫的手中。
"But the younger brother of Chu Feng hasn't gathered his aura yet, and the fairy grass is more important to him." Chu Yue forced the fairy grass into Chu Feng's hands.
"是啊,你说的没错,可惜他不领你的情。"楚真摊开双手,冷笑起来。
"Yes, you are right, but unfortunately he doesn't accept your affection." Chuzhen spread out his hands and sneered.
"谁说我不要的。"然而楚枫却微微一笑,毫不客气的将仙灵草揣入怀中,而后道:"楚月姐,这仙灵草当是我跟你借的,日后定会双倍奉还。"
"Who said I don't want it
"嗯,好。"见楚枫收下,楚月已是大喜,只是随便应下,根本没想着楚枫还她。
"Well, good." Chu Yue was very happy to see Chu Feng accept it. He just answered it casually and didn't think of returning it to her.
"你拿什么还?这仙灵草给你用,简直就是Lang费。"不过那楚真的脸色,可就难看了起来。
"What do you take back? This fairy grass for you is just Lang Fei." But Chu's face was really ugly.
楚枫笑了笑并未理他,而是对楚月说道:"楚月姐,今年的内门考核我会参加。"
Chu Feng smiled and ignored him, but said to Chu Yue, "Sister Chu Yue, I will take part in this year's internal examination."
"哼,就凭你?你要是能通过内门考核,今年家族补贴的仙灵草,我就送你。"楚真鄙夷的看着楚枫。
"Hum, just you? If you can pass the internal examination, I will give you the fairy grass subsidized by the family this year." Chu really looked at Chu Feng with disdain.
"此话当真?"楚枫并不相信。
"Are you serious?" Chu Feng didn't believe it.
"楚月姐作证,不过若是你无法通过呢?"
"Sister Chuyue testified, but what if you can't pass?"
"那我今年的仙灵草,就归你。"楚枫留下这句话,便继续投入到外门弟子的工作中。
"Then my fairy grass this year belongs to you." Chu Feng left this sentence and continued to devote himself to the work of outside disciples.
"楚真,咱们都是一家人,你为何总是处处难为楚枫?"楚月不悦的看着楚真。
"Chuzhen, we are all a family. Why do you always have trouble with Chufeng?" Chuyue looked at Chuzhen displeased.
"一家人?楚月姐你应该知龗道,这楚枫根本就不是我楚家人。"
"A family? Sister Chuyue, you should know that Chu Feng is not my Chu family at all."
"进入宗门五年都无法通过内门考核,简直就是我楚家的耻辱。"
"It is a disgrace to my Chu family that I failed to pass the internal examination after entering the Zongmen for five years."
"整个楚家,哪个喜欢他?也就你对他这么好,竟还将自己的仙灵草拿给他用。"楚真很是不解。
"Who likes him in the whole Chu family? You are so kind to him that you even gave him your own fairy grass." Chu was really puzzled.
"你真是冥顽不灵。"楚月有些生气,瞪了他一眼后,便走开了。
"You are really stubborn." Chu Yue was a little angry, glared at him, and then walked away.
倒是楚真站在原地笑了,他很是高兴,虽然楚月的仙灵草他没得到,但是他知龗道,今年楚枫的那株仙灵草,一定是他的。
It was Chuzhen who stood there and smiled. He was very happy. Although he didn't get the fairy grass of Chuyue, he knew that the fairy grass of Chufeng this year must be his.
夜入十分,外门弟子休息的地方,一片漆黑。
At ten o'clock in the night, the rest place for the outside disciples was dark.
忙碌了一天,所有人都很疲惫,早早的便睡了,唯有楚枫的房间,还亮着灯光。
After a busy day, everyone was tired and went to bed early. Only Chu Feng's room was lit.
他盘坐在床头,取出楚月送他的仙灵草,低声道:"希望这颗仙灵草,能够喂饱你。"
He sat on the head of the bed, took out the fairy grass that Chuyue gave him, and said in a low voice, "I hope this fairy grass can feed you."
话罢,楚枫闭上双眼,将仙灵草夹于双掌之间,捏出一道奇特的法决。
After that, Chu Feng closed his eyes, sandwiched the fairy grass between his palms, and made a strange decision.
而这一刻,仙灵草内的灵气,也是开始顺着楚枫的掌心,流入体内,最终汇聚在丹田之中。
At this moment, the aura in the fairy grass also began to flow into the body along the palm of Maple Chu, and finally gathered in the elixir field.
与此同时,楚枫的丹田竟传来咀嚼之音,仿佛某种东西正在进食。
At the same time, the sound of chewing came from Chu Feng's Dantian, as if something was eating.
若是透过皮肤,便可发现,楚枫的丹田深处,竟盘踞着一团雷电。
If you look through the skin, you can find that there is a cloud of lightning in the deep of Chu Feng's Dantian.
这团雷电分为九色,每种颜色都似是一只雷霆巨兽,散发着不属于这片天地的可怕气息。
This group of lightning is divided into nine colors, each color is like a thunder monster, emitting a terrible smell that does not belong to this piece of heaven and earth.
版权声明:除非特别标注,否则均为本站原创文章,严禁转载或采集本站任何文章。